Toasted Coconut Scones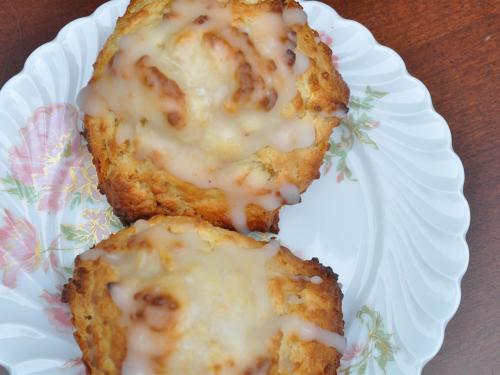 2 cups whole wheat flour
1 cup all purpose flour 
1/4 cup granulated sugar
1/4 cup packed brown sugar
2 tsp baking powder
1/2 tsp salt
1/2 cup (1 stick) cold unsalted butter
1 large egg
1 1/4 cup unsweetened coconut milk
1 tsp vanilla extract
1/2 tsp coconut extract

Glaze:
1 cup confectioners sugar,
1 Tbsp milk,
1/2 tsp coconut extract 

Preheat the oven to 375 F, line 2 baking sheets with parchment paper.

Whisk together flour, sugar, baking powder & salt, cut the butter into the dry ingredients until crumbly.  In a separate bowl whisk together the egg, coconut milk and extracts.Add wet ingredients to the dry ingredients and stir gently until dough is evenly moistened. Knead the dough 2 or 3 times on a floured work surface.  

Divide in half, pat each half into a circle about 1/2 inch thick.  Divide each circle into 8 wedges. Transfer to baking sheet, bake 20 -25 minutes until golden brown. Whisk together confectioners sugar, milk and coconut extract for glaze. Let scones cool 10 minutes then brush with glaze.  Serve while warm.
Lemon Ginger Scones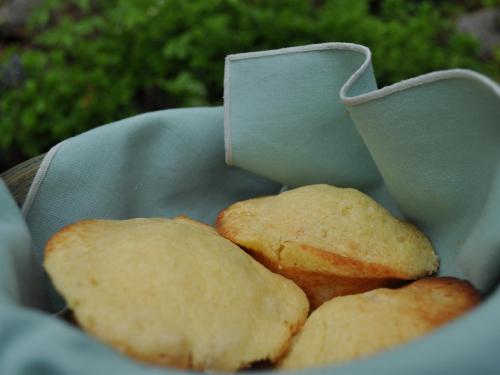 3 cups King Arthur Unbleached All Purpose Flour
4 Tbsp Baking Powder
3/4 tsp salt
1/2 cup sugar
1/2 cup lemon chips
2 Tbsp grated lemon rind
1/2 cup crystallized ginger
1/2 cup (1 stick butter)
1 egg
1/2 tsp lemon extract
1/2 tsp Fiori di Sicilia
3/4 cups buttermilk 

(1) Whisk together flour, baking powder, salt, sugar, lemon zest and crystallized ginger and lemon chips 

(2) Cut the butter into the dry ingredients.  Mix until fairly well combined with flour, few lumps remaining are ok.

(3) Whisk together the egg, lemon extract, Fiori di Sicilia and buttermilk

(4) Add to the dry ingredients, stirring gently until everything is well moistened and just     combined

(5) Use a large cookie scoop, drop 1/4 c. measures of dough onto lightly greased or parchment lined baking sheet; about 1 1/2 inches apart

(6) Bake in 400 F pre-heated oven for 15 - 18 minutes, until just golden brown. Yield about 15 scones